She Has No Voice So I Must Scream: On Voice and Agency in Video Games
So yeah, this post is going to be about voice. Voice has always been a huge issue with me. Not necessarily with how a voice sounds, but with the absence of voice and what that absence of voice actually means. It's because of this that The Little Mermaid is one of my most hated Disney princess movies (and don't get me wrong, I do hate all of them). If you don't know this film, Ariel (the mermaid in question) gives up her voice to a transvestite sea witch, Ursula, (who of course really only wants to use her evil powers to be a "real" girl, but that's another thing to analyze all together) so that she can get a pair of legs on which to run off and leave her family (forever of course because she is no longer a mermaid at this point) for a prince that she has never really met but loves deeply.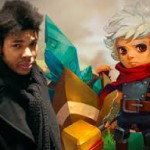 And voice is in an issue in games constantly. One of my favorite games of 2012 bugged me to no end with it's voice issues. Yep, SuperGiant Games' Bastion. I played through that entire game as a white, male character and if that wasn't bad enough I had no voice and no name. I was simply The Kid. The voice that dominated the game, and indeed became a part of the game itself, was the voice of Rucks (the Narrator) who was a kind of white father figure. The Narrator spoke for everyone involved in the war that raged in the Bastion. He not only directed the kid in how to best kill the "enemy", but he was History. He told us what events had led up to the destruction of the Bastion. And because he was the Narrator, we believe him.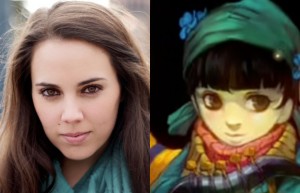 Under his instruction we even run off to "save" Zia (who is voiced by Ashley Lynn Barrett who has a hauntingly beautiful singing voice) and it is only after the Narrator tells us that she has been abducted and we run off to "save" her again that we learn that she had not been abducted, but had escaped/left on her own to learn about the war from her people's perspective. (And not to mention Zulf who destroys the rebuilt Bastion because he does know the history) It is the first time that we as gamers (and I must admit even me) question the legitimacy of the Narrator's "History". It is a holy shit moment. There are several of them in Bastion and they really cause you to think about how we allow ourselves to be duped by authority figures not only in games, but also IRL. Bastion was a game that made me do things that I didn't want to do and made me think more critically about them. I used it in class I tried to make everyone that I could play this game to see what their experience was.
And that's why I have been super excited since I heard about SuperGiant's upcoming game, Transistor, which has a female protagonist. And then the problems started, Yes, again with the voice thing. The game warns us that the most influential voices in the in-game city as vanishing one by one.
Ashley Lynn Barrett (and her beautiful voice) is back as the voice of the red haired female protagonist who is simply called Red. In game Red is a singer living in a futuristic world and has had her voice stolen by robots who are trying to kill her. During her escape she finds the weapon, Transistor, that was used in her attempted murder sticking out of the body of a man that she seems to have had an intimate (not necessarily sexual?) relationship with. His consciousness seems to have been moved into Transistor and he proceeds to narrate the rest of the game for the now silent (with the exception of grunts and heavy breathing) Red. 
Logan Cunningham, the voice of the Narrator in the Bastion, is also back as the voice of Transistor. Transistor can communicate with the essences of other recently dead folks and absorbs them into itself (no, they don't get to talk either…Only Transistor hears them before absorbing their knowledge). And it bears mentioning that Transistor is not just your everyday sword. It is a broadsword of monumental proportions. It is as phallic as phallic can get and while Red can wield it adequately in battle she can not actually carry it. She drags the damn thing all over the place. It is a constant reminder that the sword (and what it represents) is too heavy, too big, too much for her to bear.
All of this being being said, the fact that she ceases to take direction from Transistor at the end of the playable demo leaves me cautiously optimistic that she is going off to stop the Process and getting her fucking voice back!
If you want to watch a play through of the demo, one can be found here. Even if you don't want to spoil anything by watching the demo, I highly recommend watching the trailer above because it contains Barrett's rendition of the theme song.