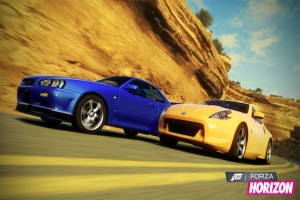 So, as we mentioned on the show this week, we are running a contest from Tuesday, April 15th- Friday, May 3rd to see who wins a free copy of Forza Horizon for the XBox 360. In order to enter the contest all you have to do is leave a comment on a blog post here at nymgamer.com. For every comment you leave we will give you one entry in the contest and then draw a winner at 11:59 pm on the 3rd. After that you will get a friendly email from us asking where we should mail it.
It's as easy as that! Of course we have ulterior motives, we know that you are out there and we want to get you all used to chatting with us here on the site!

And if you are feeling really chatty today you can jump on over and leave us a review on iTunes!
[Edited to Note]: You need to leave an actual comment because one word comments (or super short ones in general) will probably get eaten by the spam filters. So do yourself a favor and don't leave "Gimme" type comments.