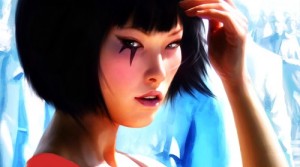 If you hold any sort of conversation with me regarding gaming, somewhere along the line I'll probably mention my love for EA Digital Illusions' (DICE) first person freerunning game, Mirror's Edge. The game, which was released in 2008, follows the story of Faith, a member of an underground system of "Runners." Runners who utilize parkour act as couriers who deliver information outside of the intensive surveillance of a bright yet dystopian and totalitarian society. After Faith's sister Kate is framed for the murder of the only politician campaigning against the city's system, she sets out to rescue her sister and is inevitably sucked into the politics and conspiracies of the city.
When I first played Mirror's Edge, I was rather astounded. I had grown up with a consistent diet of video games since early childhood, but Mirror's Edge really jumped out at me. The scenery and environment of the game is fresh and innovative; it defies the dark and monotone coloring that afflicts a good deal of modern games and incorporates a powerful use of eye-appealing colors to create a cityscape that is breathtaking. It also simultaneously conveys, through its lack of grime, flaws, and even people, the creeping dystopian influence in what initially may appear to be a colorful utopia. The soundtrack also matches the setting very cohesively – it is an almost surreal mixture of futuristic pop and electronica coupled with the main theme, "Still Alive" by Lisa Miskovsky, whose elements are imbued throughout the game. This is even neglecting what is perhaps one of the most interesting and valuable aspects of Mirror's Edge: its parkour-based gameplay. Rather than conforming to the gun-wielding restrictions of a lot of first person shooters, Mirror's Edge encourages the player to rely less on weapons and more on the pure act of running. The gun controls can be clunky and awkward for the simple reason that you're not supposed to rely on them. They're there as a crutch if needed, but the true reward of the game comes from finding the flow and making it through the level without firing a single shot. After all, the tutorial itself has more emphasis on chucking the gun after disarming than actually using it. 
But I digress a little. What I think really marks Mirror's Edge as one of the most valuable games I've ever played, particularly as I played it while I was "finding myself" as a gamer, was the fact that the game was offering me a chance to actually take the role of Faith – a female main character. By setting the game in first person, the player is asked to literally assume the experience and outlook of Faith, a gaze that is typically reserved to male characters. I haven't really played any game since that has offered me such a complete experience. And it was exciting! I was in high school when it was released but when I played it I was brought back to a state of childlike imagination, as I jumped around the room and performed makeshift parkour in the hopes of extending my experience of being Faith. Furthermore, although I appreciate games that allow you to have the option of playing as a female character, it's empowering to see DICE make the decision to stand solely behind Faith – and I haven't come across any gamer, male or female, who thinks Faith wasn't a good fit for the game or the narrative (though I'm sure there are dissidents/trolls who would disagree).
While I will admit that the general story of Mirror's Edge is not exactly the strongest aspect of the game, as it does play dangerously with the clichéd postmodern plotline of a rebellion against a dystopian society, I think Rhianna Pratchett (who also wrote the 2013 Tomb Raider reboot) did an excellent job of creating a strong and interesting character in Faith. I'm a little biased because I've also read the comics that act as a prequel to the main game, but Faith is definitely one of my favorite female characters in gaming. She's spent most of her life running away from conflict and it seems to be her default instinct, demonstrated in how she left home following the death of her mother and familial tensions between her father and herself, but yet when her sister is in trouble she willingly goes against an entire police force by herself to save her sister and clear her name. She's also clearly strong physically, having trained since childhood to be capable of performing parkour and the various feats she accomplishes in the game. She combines this with her intellect to outsmart the police force in pursuit of her and her adversaries rather than having to resort to unnecessary violence. Finally, despite her tough exterior I thought she was still very relatable as she showed distinct emotional concern for her sister despite the fact that they share two very different life philosophies (and career paths for that matter).This made her a reasonable and realistic character to me: she was a woman with a strength of character without being stone-faced, a strong combination of intellect and physicality, and one that didn't have the "sassy" persona slapped on to her to label her as strong. Furthermore, while designed to be attractive, Faith's creators did not oversexualize her or give her an unreasonable action outfit to run in, which is a refreshing choice.
Additionally, another important aspect to address is that Faith is a minority, having some sort of mixed Asian background, which I believe not only adds to the value of her as a game character but also to her realistic complexity. This is also a serious point that shouldn't be overlooked, as adequate (and positive for that matter) representation is unfortunately another rarity in games. Furthermore, three (Faith, Kate, and Celeste) of the arguably five (them plus Merc and Jacknife) main characters are female, which is a nice change of pace ratio-wise.
At E3 this year, DICE during EA's press conference announced the next edition of Mirror's Edge as some sort of prequel or origin story of Faith and also a possible remake. The original writer, Rhianna Pratchett, has admitted she has played no role in the creation of this new game and that EA/DICE never even contacted her to be involved. While I am extremely excited for a new Mirror's Edge game, I am disappointed they didn't allow Pratchett to continue building on the world she created when most of the plot was actually cut from the first game. It was nice to see a woman writing a female character, and I'm sad to see Pratchett not be a part of this new edition. However, I'll hold out hope that it lives up to the first and does Faith justice.
New iteration aside, I hope this gives some justification for the fact that I not only consider Mirror's Edge one of the most underrated and under discussed games on the market but also helps to cement Faith's place as one of the best female characters in gaming. Or even just some justification for me rambling so much about it. Now in keeping with the theme of this entry, I think I'll go jump from the couch to the table and pretend it's legitimate parkour.