Power Hour Review: Disney Infinity Starter Pack (360)
Power Hour Reviews are a new weekly NYMG feature in which we spend one intense hour playing newly released games in order to get a sense not only of game mechanics and characterization, but narrative as well. Let us spend our time first, so that you don't have to waste yours.
I pre-ordered Disney Infinity when the release date was first announced because it was supposed to launch the week before Pea's birthday and I thought that, given her love of Skylanders, this would be the perfect gift. And then it got delayed and launched 2 months later instead. I never canceled the pre-order because, truth be told, this game was just as much for me. I figured that if Skylanders could cross generations surely Disney Infinity could as well. Unfortunately, it didn't work out so well.
It's going to be a little difficult to just talk about the first hour of gameplay for this game because the tutorial/opening advertisement took up a good bit of the first hour. I wish that I could say that it wasn't representative of later gameplay, but I can't. The tutorial walks you through scenes that are available with a bunch of other characters/figures that you can buy and that didn't come with the Starter Pack which included Mr. Incredible (The Incredibles), Captain Jack Sparrow (Pirates of the Caribbean),  Sulley (Monsters University), one Power Disc, and the game base. And because we pre-ordered we also got one additional (sidekick) figure and a 2 pack of additional power discs (which serve as power ups for the characters). I should also say that I was a bit miffed that none of the characters in the Starter Pack were female and that you could only get female characters as sidekicks if you paid extra and that the only female characters available at launch were Elastigirl and Violet from The Incredibles (which I would have had to buy in order to get Pea to play in the first place). I can only hope that there are some female primary characters coming and not just princesses. I would love to see Vanellope from Wreck It Ralph in her own Kart Racing game rather than Ralph (who really was more of a sidekick in my mind).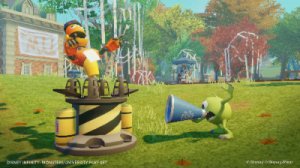 The way Infinity was billed made us believe that the game would contain two modes. First there would be the Toy Box mode where we could build tracks, courses, and things of our own to play around with and second would be story mode where we could play through stories with the characters that we had. Since I thought that Toy Box mode would be pretty self explanatory I thought that I would spend the bulk of my time in story mode to see how things worked out. So that I wouldn't be tempted to cheat on a review of the Starter Pack I started playing with Sulley. The game dropped me into the Monsters University campus and gave me a quick walk through of Sulley's special moves and powers through a series of quests before the story started…or so I thought. But these thinly connected quests and some challenges that allowed me to do more of the same were all that there was to the game. The tutorial started with a  character telling me that the rival school was vandalizing MU's campus and that I had to go around fixing things and scaring them away and after I did this to learn my powers and earn money to buy new items to put in the game (like spirit clothing for NPCs) I quickly figured out that this was all there was. And then I happened upon a glowing spot that told me that I could see a movie. Great! Cutscenes or something that was going to add to the narrative, right? Wrong. It was an advertisement. An actual friggin' commercial that said something akin to "Look at all of the cool stuff you could be doing if you rushed out to your local toy store and bought additional figures". Really. Truly. I shit you not.
Next I decided to do a quick try of the co-op play so I enlisted the aid of Pea and popped Mr. Incredible and Violet on the game base. Again we were plopped right into the middle of a scene set in The Incredibles universe and called upon to fight robots and save people trapped on roofs of buildings. This time we could buy vehicles and build jails with the in game currency we earned with our mad crime fighting skills. But the "story" that we seemed to have promised to us was still absent.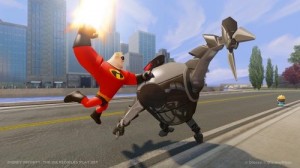 Co-op mode gave us split screen, drop-in/drop-out game play that allowed Pea and I to work cooperatively on each task/quest without getting into each other's way on screen. I should also note that in the two stories that we played we weren't asked to kill or hurt humans or humanoids. We were only required to scare monsters and defeat robots (this it a plus in my book of co-op kid gaming). The fighting mechanic was also simple to master (one button moves and no combos) and the battles and quests were fun to play with Pea, but this was definitely not something that I would fire up for a night of grown up gaming (like I did with Skylanders). In essence, what Infinity is is more of a thinly contextualized brawler than a narrative rich environment in which to interact. It is definitely a game for younger players that doesn't bridge the gap in the way Skylanders did, but it does offer some good co-op play in film environments that little ones are going to be more familiar with. Finally, I should add that if you decide to buy this for younger or inexperienced gamers you may want to play co-op the first time through as some of the quests do not divulge exactly how to achieve them, but rather expect you to recognize mechanics that are more stable across games and genres. All in all, at $80 Disney Infinity is just not worth it. Wait a while for the price to go down or make sure that the Starter pack is giving some good extras (we got $20 in freebies and I'm not even sure that was a great deal).