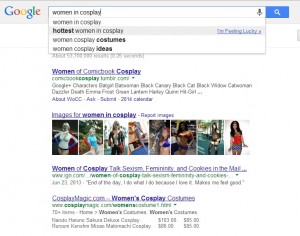 One of the most fascinating things about writing for Not Your Mama's Gamer is the audience that we attract. While I don't have hard numbers/facts, I am almost positive that a majority of our readership are scholars/academics or people who stumbled on our site as an effect of being friends with us on different social media sites. There is also a small number of people who find this site entirely by mistake, having searched for something vulgar and finding themselves on our site because of our cleverly written titles and sometimes controversial content. A feature of our site is that it allows us to track what search terms lead people to visiting NYMGamer and these can be entertaining and eye opening all at the same time.
Recently I started to notice that the post I wrote about Cosplay and cosplayer Meagan Marie gets a fair amount of consistent attention due to its title: Women and Cosplay; How Not To Cross The Slut Line. In 2013 it has received 944 views, averaging 3 views a day. While I'd love to attribute this to a well written article, the truth of the matter is that some of our most popular search terms are "slutty cosplay" and "cosplay slut" which both lead you to this article and the exact opposite reason why I wrote it in the first place.
Aside from that is the fact that this article is not well written, as my original message did not come across the way I had intended. It comes off as though I wanted to shame women for dressing in a provocative manner; point a finger and say "she's a slut and she's a slut." I never intended to point blame on the women who choose to dress in a provocative manner, but instead to place blame on sites that encourage the "slut factor" of cosplay. So, let me take a moment to clarify.
People who cosplay have a deep passion for the hobby they have taken up; many even do it professionally appearing at conventions and other events on a regular basis. Unfortunately a lot of people misconstrue this passion for a desire to pull attention to the female figure. Many of the sites that feature women cosplaying make a point to pull your attention to the fact that the women are scantily clad or have large breasts. Which leads people to use search terms such as "cosplay slut" or "slutty cosplay." This is the problem that I have with the world that surrounds cosplayers; not necessarily the cosplay itself, but instead the fact that the most attention that is given to the act of cosplaying is to objectify the women (and sometimes men!) who put their blood, sweat, and tears into making costumes of their favorite characters.
The flip side of this objectified attention is that the most prominent image young women see when they look up female cosplayers is a bunch of sites that discuss how big the girl's boobs are or how great it is that the women are scantily clad. There is a difference between appreciating a costume and thinking a woman is sexy vs. reducing the cosplaying female to a sex object. The sites that are receiving a lot of the attention are the ones doing the latter which leads young women to think that they have to be overtly dressed in order to be appreciated for their cosplay. This is a problem.
Cosplay has recently gained a lot more healthy attention due to the SyFy show Heroes of Cosplay and my hope is that it will lead to healthier sites for young women researching cosplay in general. My other hope is that when people look up the term "cosplay slut" they end up at NYMGamer and see this post and my previous one, and instead of furthering the objectification of women who cosplay, instead learn a thing or two about what it means to have a healthy, non-objectifying relationship with the women who cosplay.
Also, please read the comment section of my original post to further see how the article was mistaken as dismissing cosplayers in general and my response that hopefully clarifies even further!